Wednesday, December 29, 2004
Well, you've seen that Bergey and Midge are best friends... Here's a litte more evidence.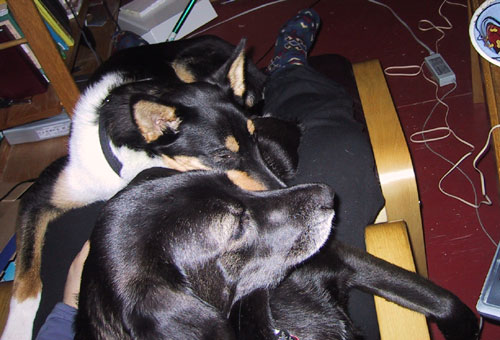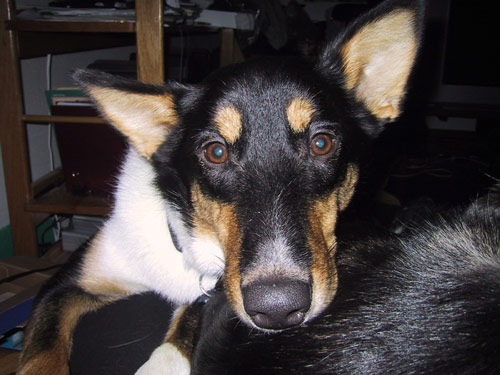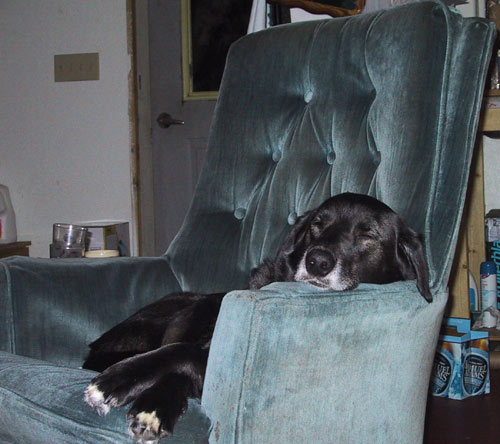 Hi,
Well, great auroras tonight. The sky was looking incredible... just need to work on remembering to check the focusing and the aperture on my film camera before going crazy with the picture taking. Anyway, Midge and I enjoyed the show together... I bet you can find her in this picture if you look hard enough: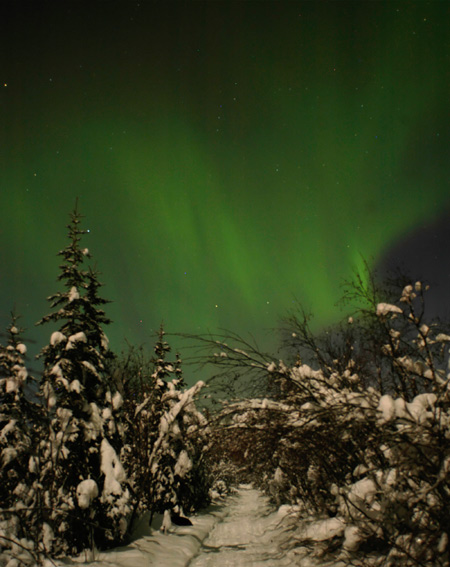 Otherwise it was a great night for it as you can see in these two shots.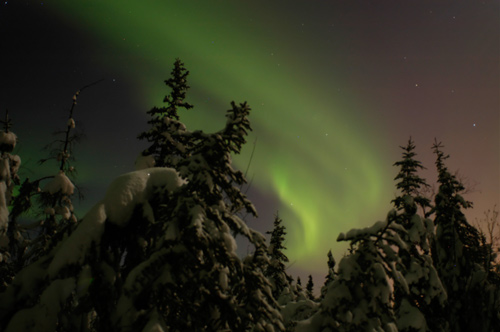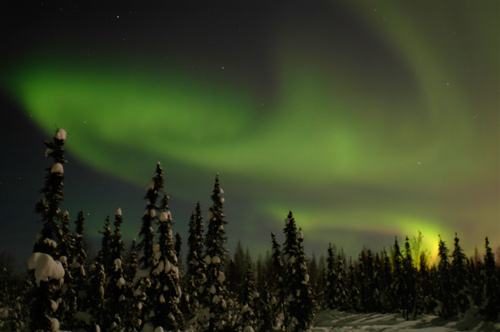 Saturday, December 25, 2004
Well, I really should have this all in the album section but since I get to do whatever I want I'm going to put it here. Well, on the 24th Hagen, Margaret, and I celebrated Christmas since Margaret has to work on Christmas. So, for the first time ever I opened presents a day early. As you can see there were lots of folks sending things from out of town and the three of us also managed to rustle up some interesting things: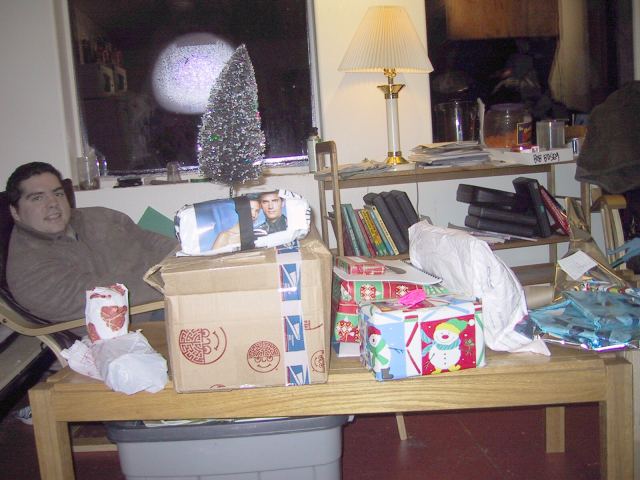 ... Looking at some instuctions ...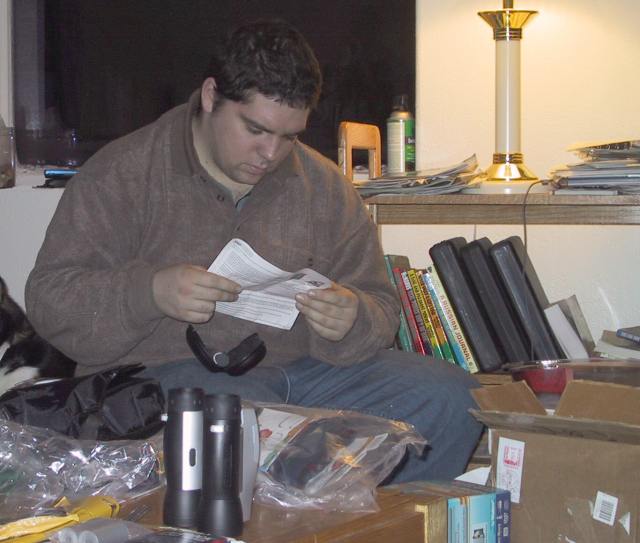 ... The dogs were enjoying themselves, too ...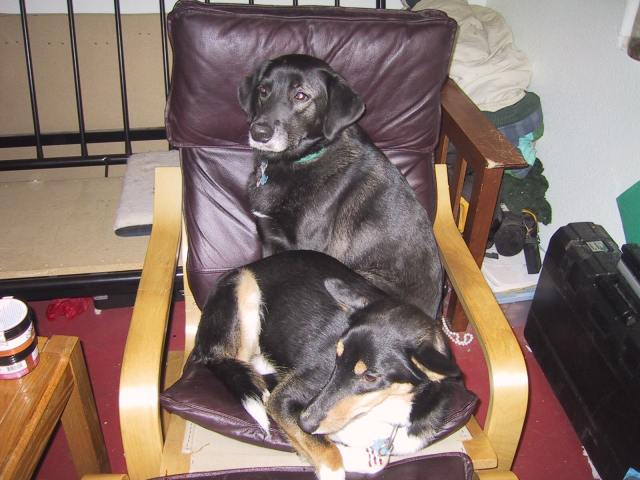 ... After the three of us opened up presents we went with Mel to John Aleperti's house for Christmas dinner and fun. Shrimp, fancy breads and cheeses was the main course and we wrapped things up with Chocolate fondue which was fun. Chocolate dipped baby carrots aren't really that bad tasting I learned.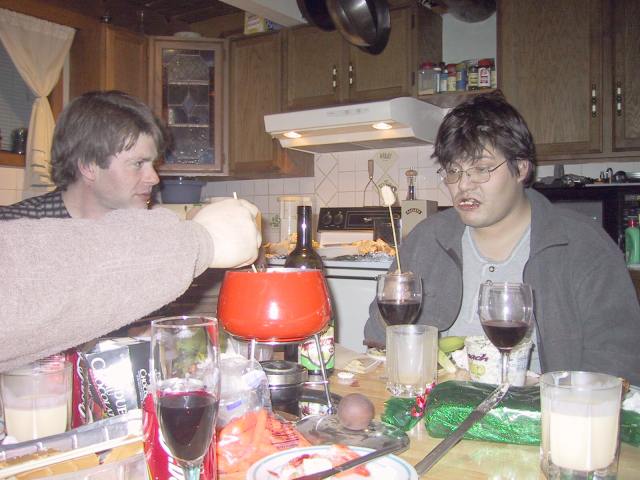 ... Aleperti made salsa but had an extra pepper. So, we whittled it down to the really hot part here which was dipped in the fondue for giggles to cover up the burning hot taste of the pepper.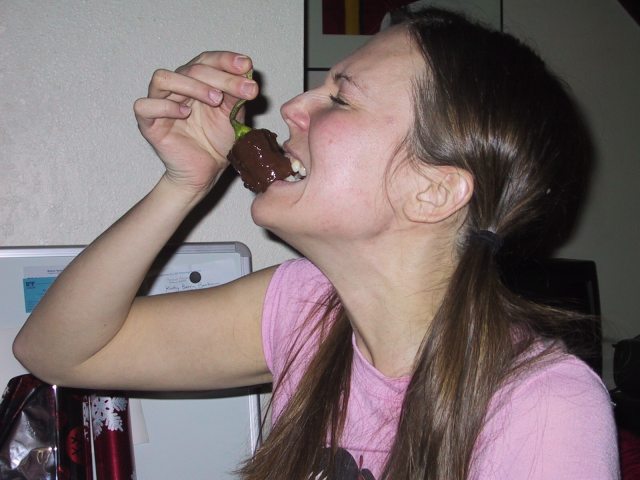 ... The bananas were to be for dipping in the chocolate but somehow they ended up being a lot on the green side. So, we kind of ended up playing with them.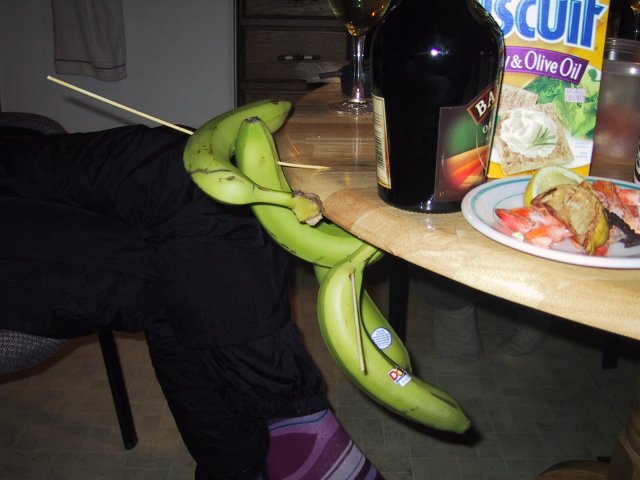 ... After leaving Aleperti's house we went over to Sam, Hagen's boss's house for a bonfire, cider and more food (grilled shishkabobs). It was nice to have a warm pallet fire with the air so cold.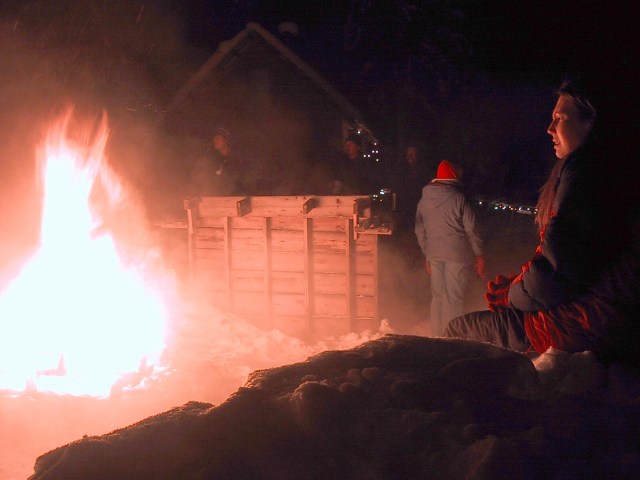 ... What Christmas eve isn't complete without a snow angel. Shortly after this Mel was seriously whitewashed by Hagen when he mistook her for me.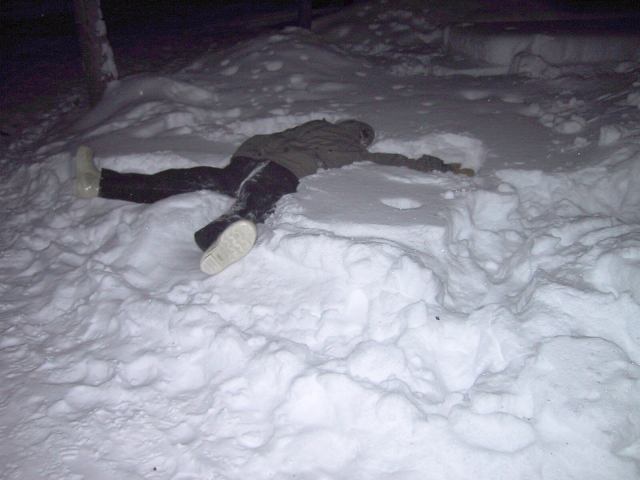 ... Well, the evening was nice but the temperature today was frigid. Just Tuesday or Wenesday the temperature was right around freezing. Today, more like 30 below or colder.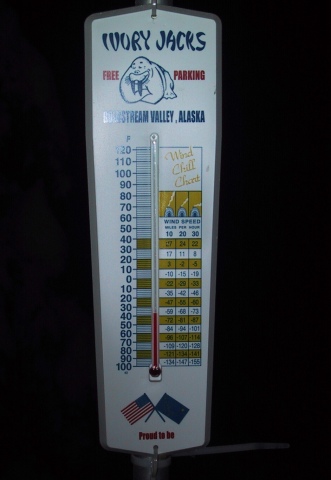 So, that's our Christmas. It was pretty fun. I hope everyone else has a great Christmas day, too.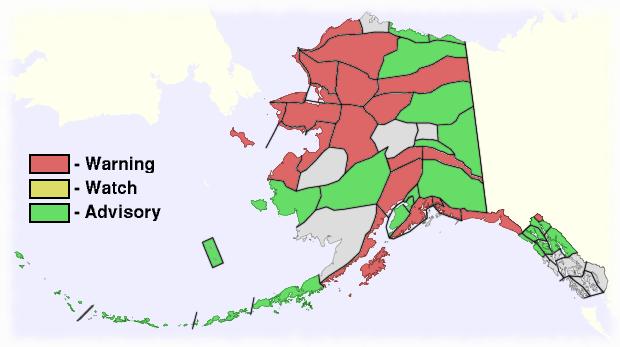 Wednesday, December 22, 2004
Well, got stuck out at CPCRW again... fortunately I got the snow machine started but this time I was way further out (back in regular cell phone range, too). Went up to fix a site that was running out of batteries and nearly made it to the top but started to fall over at which point the snow machine stopped going up hill. I dug out with my hands (didn't have my snow shovel) and after getting stuck 2 more times I turned the machine around by lifting it up and rotating it about 4 inches at a time front and back until I'd done a 180. Tiring! The worst part was I was only about 300 yards from the station but I'll come up again later in the week when it's even colder. So, I was letting it idle this time at each spot I was stuck at but at the third hole it died. No big deal I thought, I'll be turned around in a minute and it will be nice not to be sucking down 2 stroke exhaust for a few minutes. Well, a while later and the darn thing wouldn't get going again. So, changed the plugs, flushed the cylinders and still nothing. Grrr!!! Well, after I was pretty exhausted from pulling I had a glimmer of hope and then finally it started back up again and I inched down the hill. Nice day though, -10 down in the valley and +7 where I was at (I saw once I got back to town. Well, here's couple pictures of course the hole in front of the snow machine looks way less deep than in real life.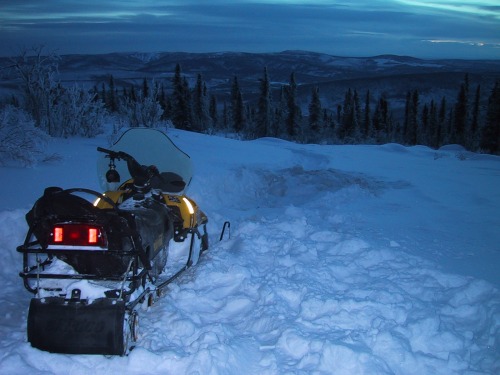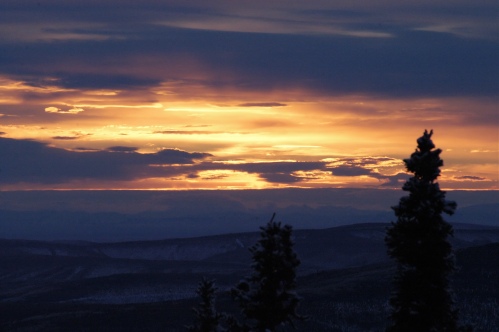 But, the view was nice.
Tuesday, December 21, 2004
Okay, I thought this toilet lid cover was one of the more frightening Christmas time products I'd seen until the cashier thought they were cute (they = one for me and one to give of course). What's the world coming to?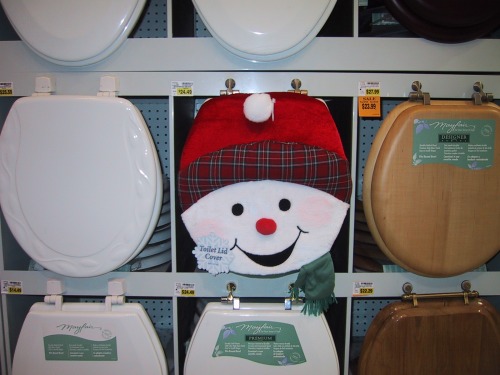 Thursday, December 16, 2004
Well, you've probably already seen it but since I put up that picture of Arkansas Alaska I figured here's another you might get a smile out of: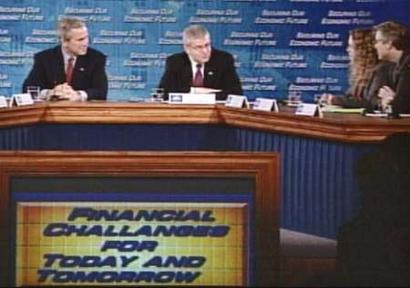 ... Fixed the archive links ...
... Added RSS...
Maybe... drop me a line if it doesn't work for you: rss@rbusey.org
thanks

Wednesday, December 15, 2004
Well, Thanksgiving is a bit past but I think something else we can be thankful for is the cool new and improved Anchorage airport. I hadn't been in it since the summer but check out the key addition, an esco-walker.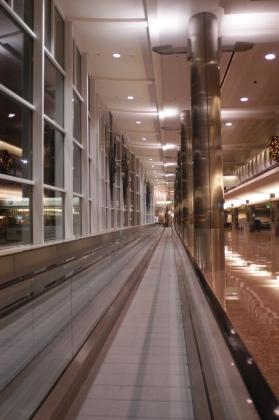 Since we had time to kill at the airport last weekend I got some exercise and did six laps on the esco-walker... feel the burn. We'll leave the crazy lady Shane left me stuck with for another time.
Why not surf the web instead...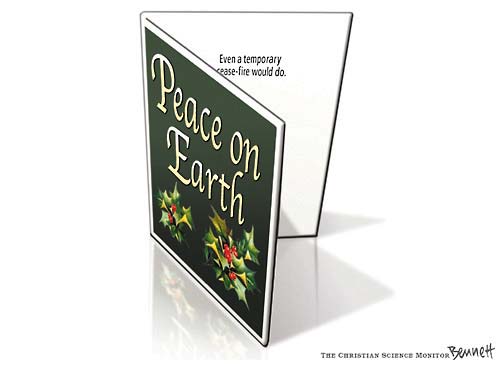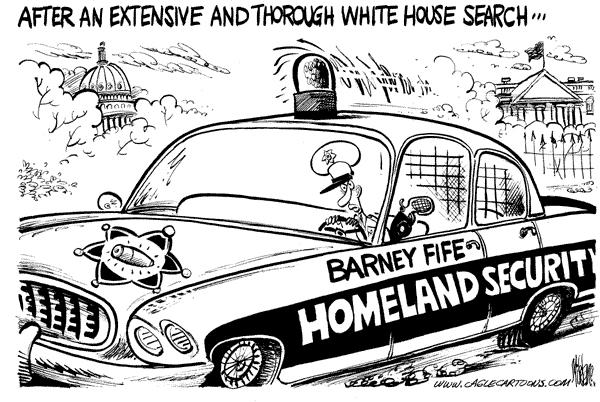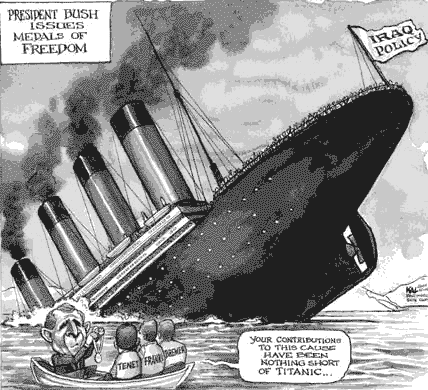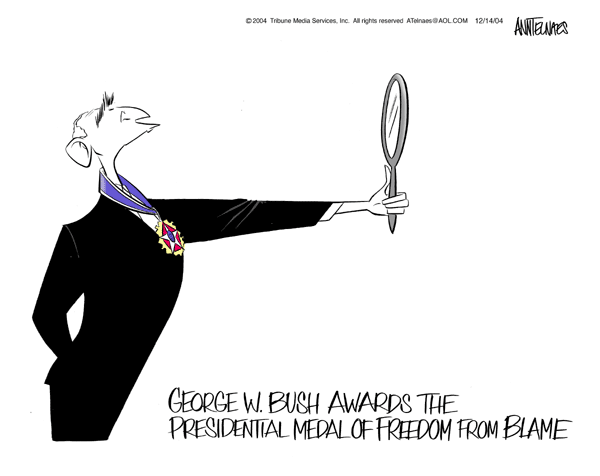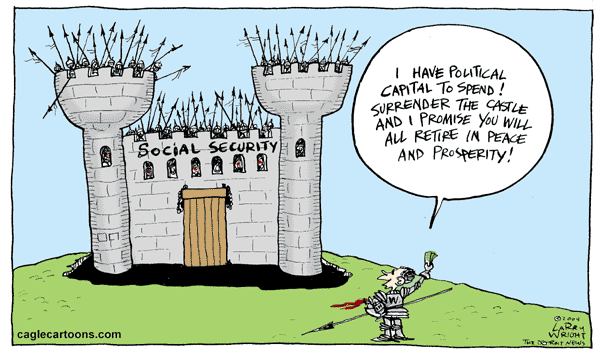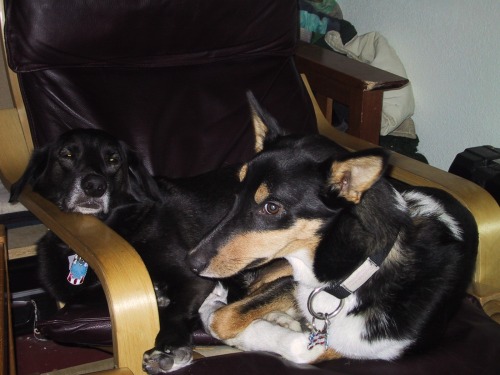 Just because you have a Phd doesn't mean you have to be good with geography...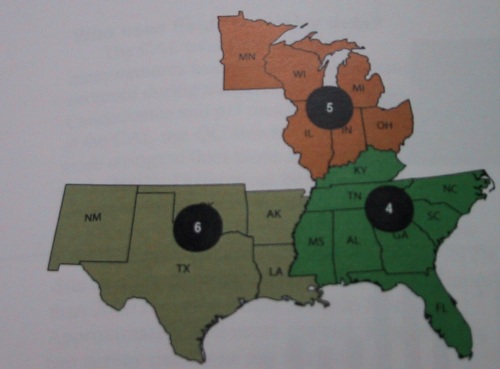 Copied from a
publication
put together by these folks:
National Atmospheric Deposition Program
Thursday, December 09, 2004
Well, we're done. Just packing up and getting back to Fairbanks on tap for tomorrow. I think I speak for all of us when I say... FINALLY! Things haven't gotten any warmer but we finished. Not much to see from the final two days other than sampling fresh water at 30 below (pumping water through skinny tubing into little bottles):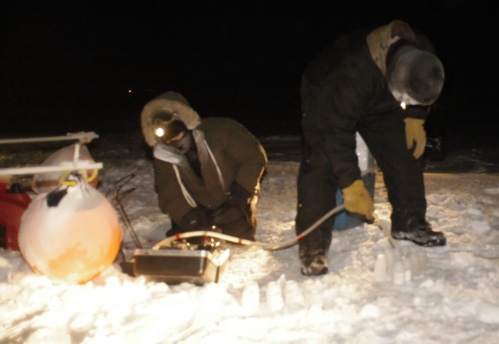 And another look how frosty I am shot: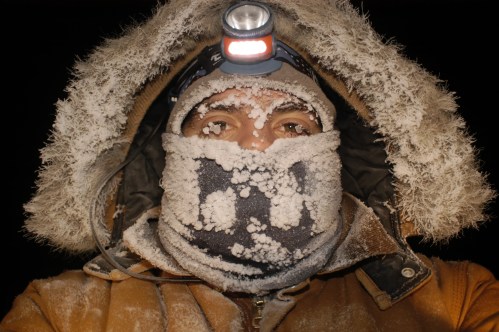 Well, that's it for now. Time to sleep into the next week...
Tuesday, December 07, 2004
So, Monday we headed out to another lake (like normal) but it was further away and they hadn't made the ice roads yet (that's what we've been getting the rafts ready for, ice road making season). So, off we went in a Hagglund tracked vehicle. Talk about cool! It's an old army surplus deal, four seats up front plus a crew / cargo self-contained unit that tags along in the back.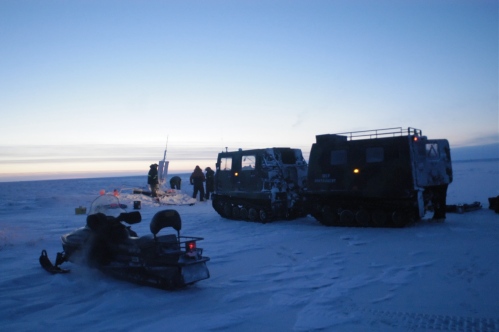 The ride over the tundra was super bumpy but, one of my skills is being able to sleep anywhere and true to form, I was out for a good chunk of the trip to L9817. So, once we got there we met up with our friends from Fairbanks: Richard (BLM hydrologist) and Matt (BLM biologist) who flew in on skis. So, the day was pretty fun working with them even though the temperature dropped throughout the day until it was below -30. Not to much wind though (not that it takes much...). It was my first day to need hot pads in my gloves because I was working so much without gloves. The first real kicker of the day was the DO sensor I was installing. It took over an hour to connect the water proof sensor and get the darn thing in the water. In what seems to be a recurring theme for the trip I warmed the cable up by sticking it up my sleeve while the sensor was warmed by driving around the lake. So, eventually we got it. Well, in the mean time one of the snowmachines broke down. The snowmachine committee poked and prodded for a while before deciding it was broken. The aurora was great so I enjoyed the show. However, forgot my tripod so check out this picture using my unpatented mitten monopod. Didn't even look through the camera eyehole for it... got lucky for sure...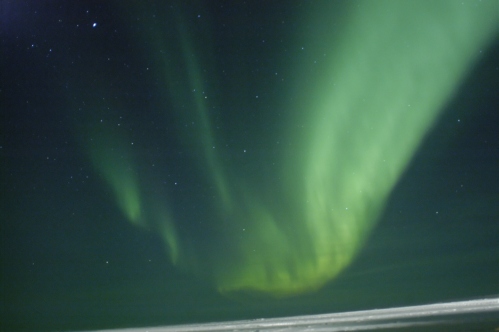 So, the consensus was ditch the snowmachine and come back later... So, Mike and Ken tied it to the back of Mike's snow machine and off they went. Meanwhile, back at the ranch, we had 6 people instead of the 4 we were expecting (we didn't know Matt was coming with Richard) to fit in the Hagglund. I don't know why it always seems to happen this way but Braden, the grad student we're all up here supporting, ended up riding shotgun and Shane (over 250), Matt (a tall guy), Richard (quite tall), and I ended up splitting the back. Well, no biggie except for the engine housing that sits in the back. So, for the first 2/3s Richard and Shane sat in the two seats, Matt sat on the cover with his back against the back of the cab and I got the front left corner of the cover. After 10 miles of tundra Richard and I switched out and I was able to get in a few more Zs. It was a great day though. Richard, Ken, Mike and I finished it with a good old fashioned bull session in the cafeteria around midnight.
Well, I think you're all caught up. Who knows what insanity Wednesday will bring but I'm still pulling for a Friday return...
One of the Sunday morning highlights was everyone being frightened by a red fox. Early in the day Braden, Shane, Loda, and I were drilling holes and doing water chemistry when we saw this unknown animal coming up fast on us. We'd been hearing all week "Watch out for the polar bears..." and "What, no shotgun?" and it was first thing in the morning so we were keeping an eye open when out of nowhere this animal came running towards us. Shane thought it was a wolverine and we all got a little on the nervous side. Culiminating in Braden and I hitting the road by snow machine until he came close enough for us to see it was only a fox (that has rabies of course but details...). So, that got our morning going in a big way. The rest of the morning was Shane downplaying his excitement and that makes for good TV, too.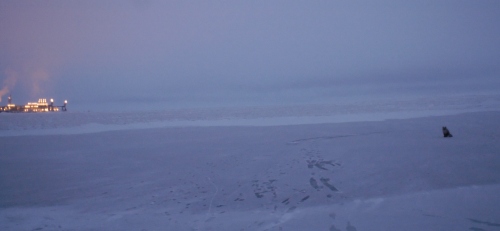 (it's the speck on the right... didn't bring a telephoto since I didn't want to see any wildlife... brilliant plan...)
Nothing tops off a day like a problem. Sunday was a doozy. Of course on the last hole of the day the drilling committee decided to switch augers from the big bore hole 6" to the little one (1" diameter)... to see how it would do and since we wouldn't be measuring with the big, wide, oxygen sensor... fast forward to an hour later when the thing was completely stuck. The probe was stuck in the ice. Not a big deal they can't be that expensive... $12,000 and brand new... so, it's rescue time. Mike, Loda, Ken, and I stayed out on the lake until 2:30am. It was horrible, we picked up a chainsaw which is the perfect tool for ice cutting and got to within 6 - 8 inches of the bottom of the ice (the ice is ~30" thick) when the darn chainsaw ran out of gas. So, this was about 11:30. In the next three hours the chain roller bar froze up, a bolt fell off the bar (not really good...) and the pull cord mechanism froze up. It was quite the show though with Mike cutting the ice agilely and efficiently, Ken on breaker bar duty, Loda keeping the sensor cable in one piece and me cleaning out the hole.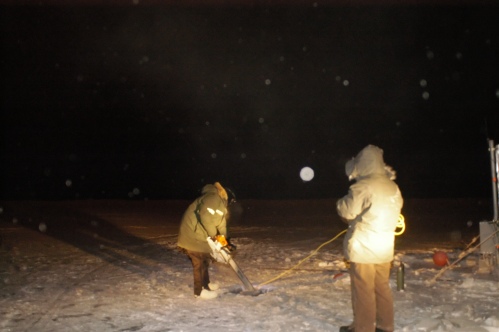 So, eventually we got the sensor broken free of the ice without losing the breaker bar or the chainsaw the the chilly waters below. A well timed grab by Ken with the ice pick brought the sensor out of the hole where he was able to chip around it and get it out intact.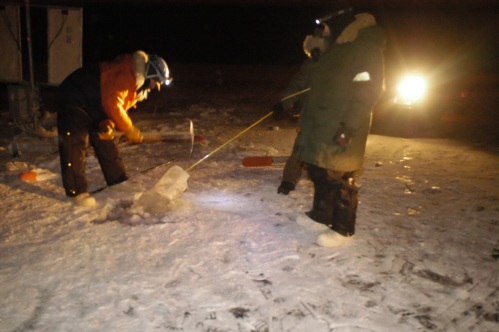 Highlights of the evening included a general page over the Alpine PA system for Ken (that really got me eating quickly in the cafeteria, I figured if he was paged it couldn't be good)... Sticking the chainsaw bar against my belly to thaw it out (BRRRRRR!)... me keeping the sensor warm after we pulled it out of the hole by once again putting it in my layers... Mike surrounded by a mist of water vapor cutting through the ice and inching closer in his cuts to the sensor
... The crusty old bus driver at an Arctic oil field rocking out to Celine Dion

Well, we're back to Kuparuk today from Alpine (an oil field 30 miles away only accessible by plane right now). ETA to Fairbanks is Friday or Sunday depending on how chemistry and surveying goes. I know I'm crossing my fingers!! Well, more to follow.

Friday, December 03, 2004
Well, I don't really think this trip will ever end. All we seem to do is fall further behind schedule. Today we got part of the sampling, surveying, and wiring done at one of the two lakes we were to do today. Fortunately for me, Ken and I got our stuff done. It wasn't quite as cold today and I was comfortable all day long rather than cooling off slowly as the day went on. Well sampling was lame, we have this big auger that we drill into the ice with but it takes forever. Here's Shane and Loda drilling into the lake. The committe is checking out the results. The darn dissolved oxygen probe took 45 minutes to equilibriate. That's plain crazy.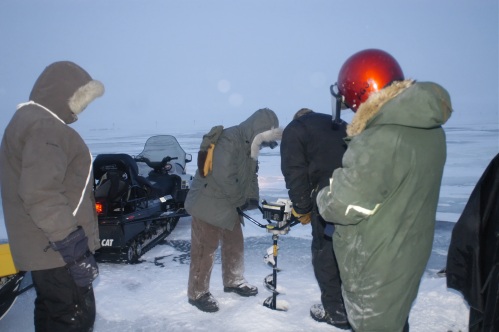 So, the weather warmed up a little (15 degrees warmer in the wind chill and 5 degrees warmer in the regular temperature ) but as you can see it's still chilly if you're out there all day. The only time it's cold is when you have to face the wind or take your gloves off for an extended period of time, stuff like that. Here's I am looking frosty: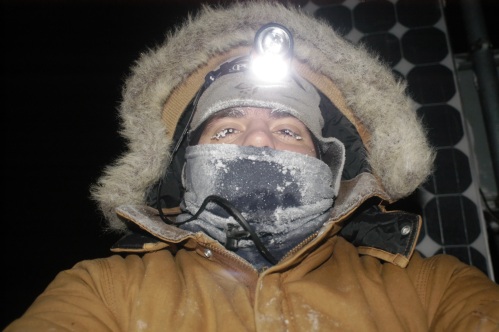 Well, we'll see how Saturday goes. We're traveling to Alpine tomorrow. It's only 30 miles away but we're flying since they haven't made the ice roads yet.
Thursday, December 02, 2004
Well, today we went out despite the weather. The temperature was -15 but the windchill brought things down to -60. How crazy is that, we were out there working. Well, this raft was even more blown in than the last one and it basically took three hours of digging to get it out of the drift it was in. Check it out: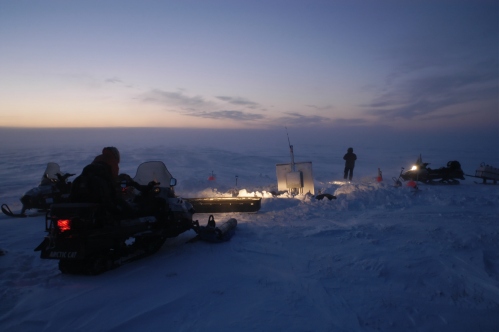 As you can see it's a bit past sunset... except for the sun isn't rising right now. So, for the better part of the day it's just over the horizon like this or a bit brighter. So, we chipped and dug and shoveled, all six of us, and three hours later the raft was uncovered and we were ready to tow it. Here Loda and Mike make some last minute adjustments to things before the big move to the center of the lake. The big difference between today and Tuesday is that today there wasn't nearly as much blowing snow. You can see in the background one of the Kuparuk field pump stations.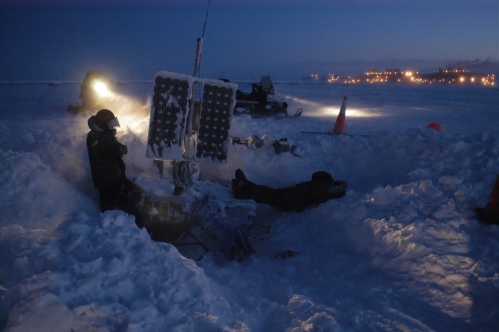 So, finally we pulled the raft out of the hole and out onto the lake where we chased the center of the lake with a frozen gps. Braden and I both tried to warm the screen up and it really killed me having to take my gloves off to heat up the screen with my bare hands. Having goggles that kept fogging up was one thing but hoooeeeey, it's chilly out there with the wind going. So, here we are pulling the raft out: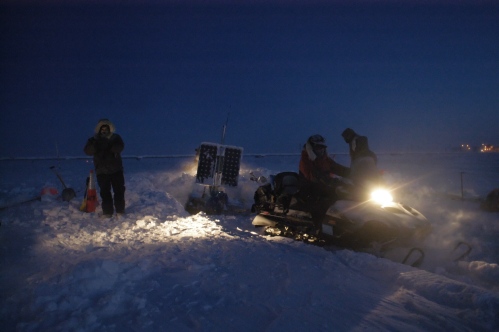 Well who knows what tomorrow will bring other than being totally tired again! Until tomorrow...
Wednesday, December 01, 2004
Well, we are weathered in today, the wind's really honking out there. Apparently last night when we were out it was blowing 30 - 40 with wind chills somewhere south of -60.
So, in the mean time, one more picture of the raft. It reminds me of that famous picture of Shackelton's ship frozen into the ice.
So, tomorrow we'll give it another go. No complaints here, but I've been dressing for the weather so the cold hasn't really been that bad other than moving a little slower due to being dressed in so many layers.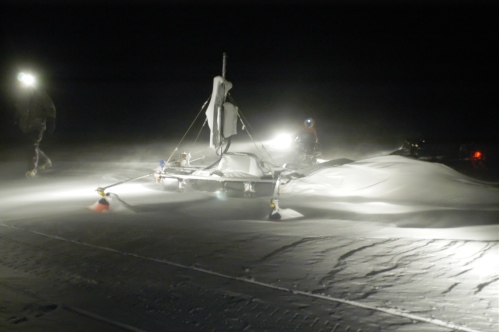 Well, it's actually not that cold, but the wind has really been blowing hard, not a big deal except for we didn't get around to trying to put out our first raft until around 4PM... it was dark... and sometimes as little as 100' of visibility. Hurray for GPSs before the screens freeze (not long). So, here's a couple action shots. First, testing the ice depth (it was around 20" thick):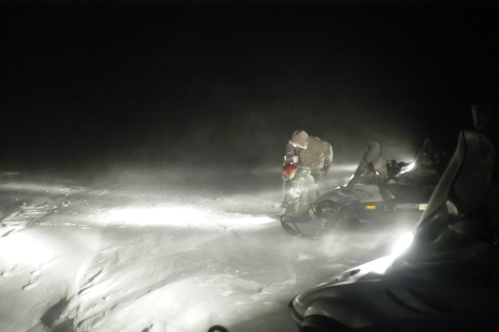 Finally, pulling the raft from the shore out onto the lake. Woo hoo, finally!