Tuesday, April 26, 2005
... Killed my first mosquito today.
Well, plus I got to watch breakup on the Chatanika which was of course cool.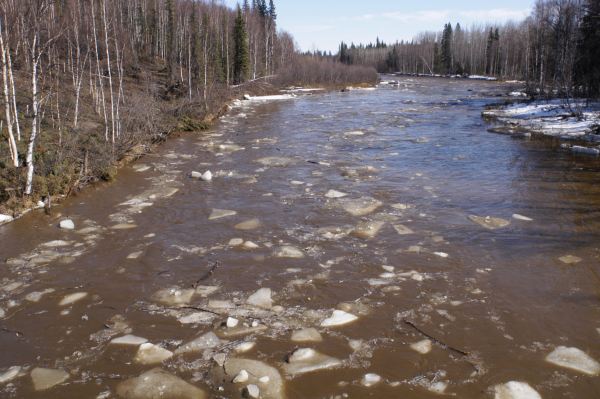 Wednesday, April 20, 2005
Boy, it's April but the wind chill today was still -50. Def6in6iteloy nlot6icabloe from time to time. Casualties of the day included my laptop keyboard which is coming up with clever interpretations for my key presses tonight. Here's that sentence unedited:
Casualot6ies lof the day 6inclouded my loaptlop [keybloard wh6ich 6is clom6ing up w6ith clever 6interpretat6inlos flor my [key presses tlon6ight.
The blowing snow was getting into every nook and cranny both in my keyboard and field book. That got old. i (no caps i at the moment) had to replace a radio and add a gps and all that detail work was super freezing for the ol' hands. Here's poor Richard and Matt surveying in the snow: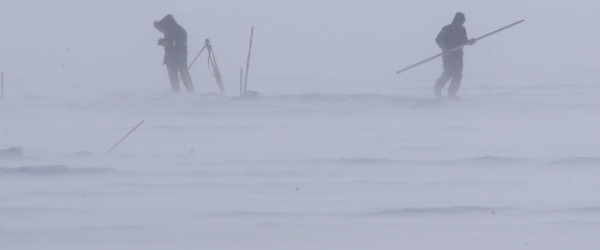 insult to injury, the road crew had blocked off the lake entrance while we were working today so we had to shovel it clear: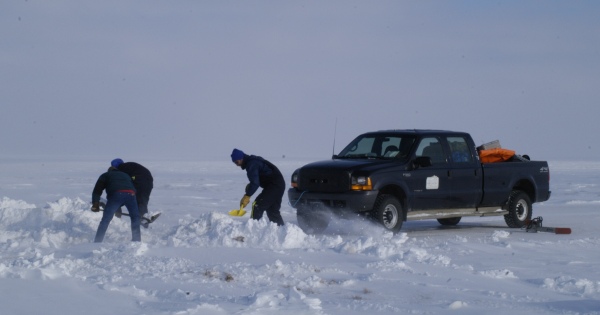 PS, we're coming back Friday on a BlM charter rather than tomorrow.
Sunday, April 17, 2005
Well, headed back to Denali yesterday. Pretty fun, the road is open to Teklanika now, so I went on a short trip up to Sable Pass. Maybe next weekend I'll go as far as Polychrome. No animals seen yet other than a few ptarmigan I scared up but the scenery was the normal breathtaking... Until the snow started. Seemed as good a reason as any to turn around. So, on the ride back I popped a tire good, sounded like a bottle rocket. So, I was only a couple miles from the gate so I decided to walk it out rather than patch it up out there. As I walked out the road crew swung past and took my bike off my hands but I waved off the ride.
Here in Fairbanks... It snowed a half inch or so last night. Noooo! Well, off to the slope Monday so who knows what that will bring.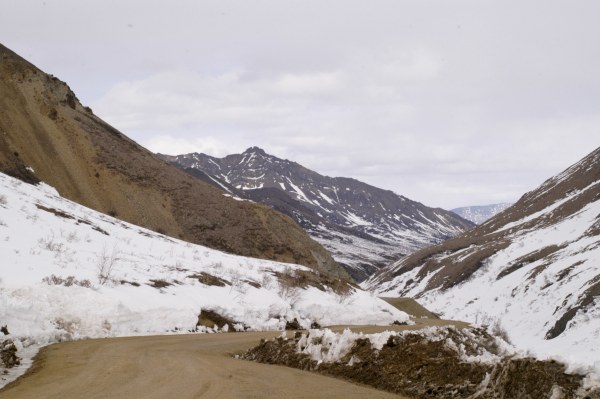 Thursday, April 14, 2005
Well, Wednesday found Prathap and I back in CPCRW busting trail. Great day for it though, here I am hanging out at the C3 station: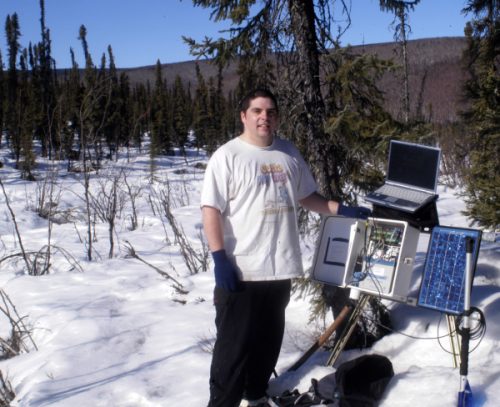 In other news, poor old Hagen has been back in the hospital for a couple days now after they discovered his surgeon had left a piece of appendix in him. Details. So, we're happy to hear that he moved from intensive care to general care today.
Monday, April 11, 2005
Well, time to get stupid. I decided to see if I could chop the overhang snow that was sliding off my roof yesterday before going to see Hagen who had his appendix removed Sunday 2am and sure enough, only a couple chops and WHOOMP!
The topper, that already had the welds broken from driving with tower pieces on it, crumpled. Pretty funny.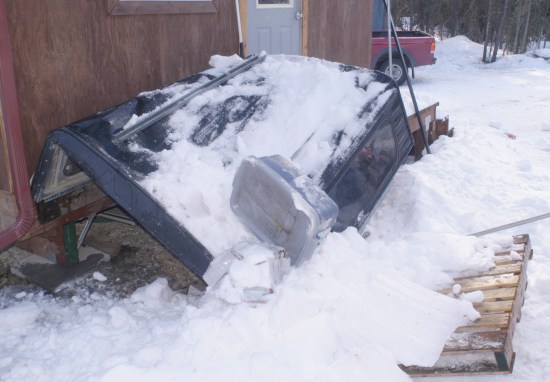 Well, Saturday was my first trip into Denali of the year. I drove down to the Savage River parking lot (where the pavement stops) and rode from there to nearly Teklanika (the furthest the public can drive in on the shoulder seasons. About 30 miles round trip so pretty good for a first weekend out, those big hills are a lot more killer on a bike compared to hitting the ol' accelerator in the truck. Well, hopefully I'll make this a weekly occurence until the park opens up in May or June. I was disappointed not to see any animals on this trip but there are plenty of weeks between now and June and once they open up the road to Teklanika I'll be able to bike to Sable Pass and Polychrome which should be super cool.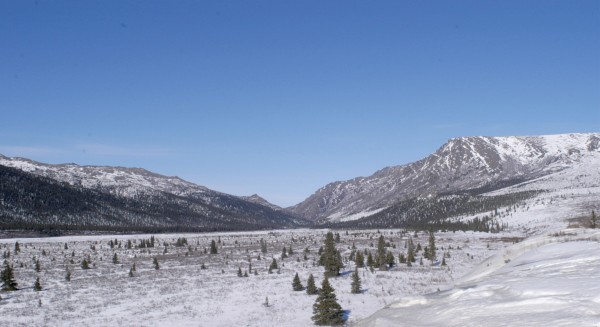 Thursday, April 07, 2005
Well, Prathap and I were out at CPCRW busting trail yesterday. Pretty monotonous, go 100 yards (hopefully) get stuck, spend 15 minutes shovelling out, go another 100, cut down a fallen down tree, repeat. We only had to go about a mile and we didn't make it in about 5 hours. The day was beautiful though, up in the 40s, t-shirt and pants weather even out there in the snow. Talk about tiring though! The snow's getting really slushy on top so summer must be practically around the corner.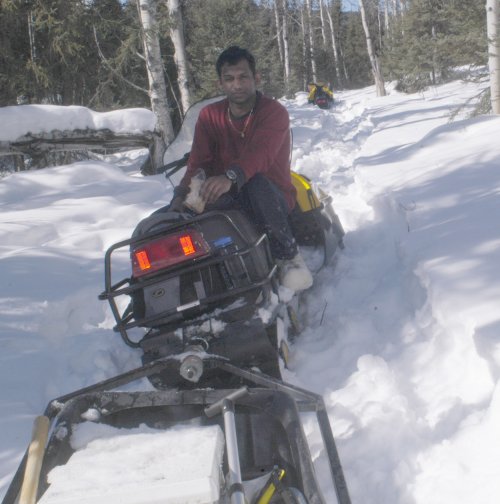 Tuesday, April 05, 2005
Well, it's light a lot later but I guess there's still a day or two of aurora left before summer. It was going okay last night: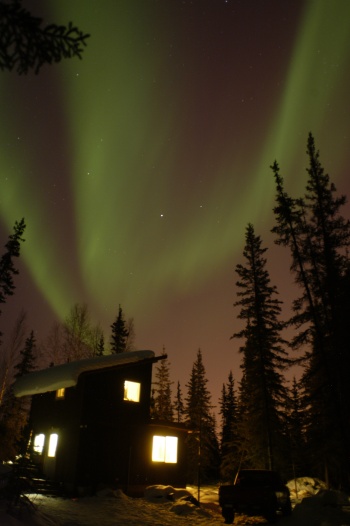 Friday, April 01, 2005
Check it out, home made mukluks: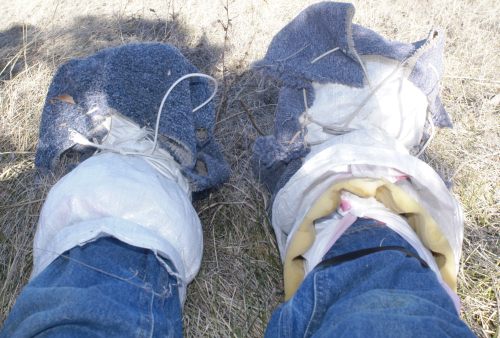 I guess they're warmer than bunny boots. I believe it, it was in the 60s today in Boulder and after hiking back down off the mountain we were on, my feet were cooking! Today was the thrilling conclusion of arctic safety and survival training week. So, if you can believe it, if we're hanging out in the woods and you break something or any number of other nasty things I'll be able to get you partially patched up and help get you back to the hospital before things take a turn for the worse. Well, off to bed, the shuttle pickup is 4:30am.