Sunday, May 22, 2005
Here's a kind of funny / sad
article.
My favorite sentences:
Some dinosaurs survived on Noah's ark. One poster explains that Noah would have chosen juvenile dinosaurs to save space. An illustration shows two green sauropods in the ark alongside more conventional elephants and lions.
Thursday, May 19, 2005
Is a treadmill to 20th century for you? Maybe you'd be interested in one of
these
:
... Busy couple weeks with the graduation and all... anyways, here's an interesting tidbit:
Poking around other people's permafrost research I came across an interesting climate study about Florida. Seems the results of a computer model suggest that draining some of Florida's wetlands in the south to grow oranges has allowed an increased chance of frost (the reason the groves moved south in the first place) because the air is drier and doesn't have as much energy to give up as night cools the land.
Orange model
Of course I've stopped drinking orange juice until the Floridians stop acting like idiots but it's still an interesting conclusion.
Monday, May 09, 2005
So, I went back to Denali this weekend and finally saw some cooler animals than ground squirrels and ptarmigans. The bears and caribou are starting to come out. Yay. I missed the bears but saw a couple caribou so that made it all okay. However, third time's the charm on the bike flats. Popped the tube so bad it ripped up the tire. So, I walked back from a few miles short of Sable Pass. That's okay, nice day for it. The incredible weather continues with two or three weeks now it seems of sunny 60 - 70 degree days. Well, good to get all this out of the system before heading south.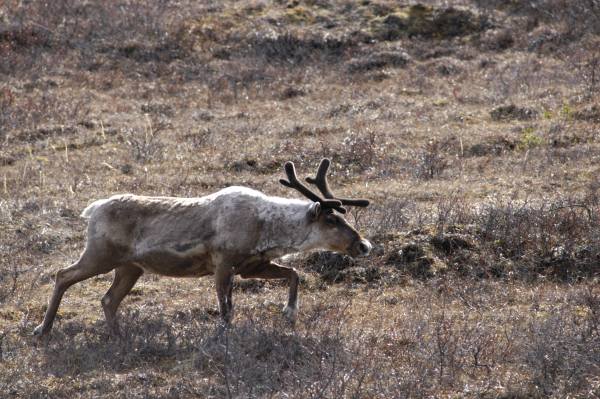 Sunday, May 01, 2005
Well, went to Denali again, rode the ol' bike up to Sable Pass. Maybe next week I'll go further but I still had to change out my studded tires. But once the dogs and I got going it was a beautiful day in the 60s. The ranger at the entrance mentioned bears but I missed them today. Had to settle for ground squirrels. Maybe we'll see something bigger next week. But I was dying to see an animal or two.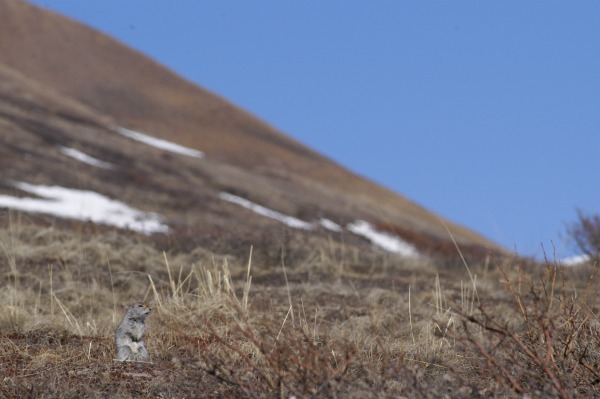 But, of course the mountain was out as well. Since I don't have a pass I can't drive in like I used to for work but I'll settle for a bike for the moment. Here's Denali from near about 10 miles in: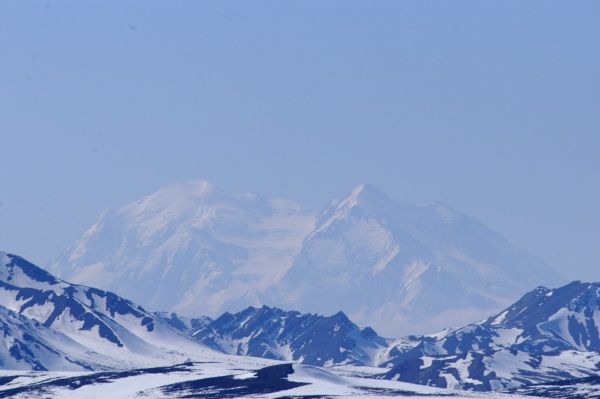 The road was dry so the snow isn't melting onto the road much anymore. I popped the tire again this time in Sable Pass so I was on my way after a change out. Had mixed results with the new CO2 air pump, one of the three cylinders popped open before the seal was tight so I lost that one in a hiss of cold air. Oh well, super nice day all things considered.