Wednesday, June 29, 2005
Wednesday, June 22, 2005
Well, back from Nome. It was a fun day and a half. The weather out there was great despite the forecast. Nice and sunny. Could have used a little more wind though...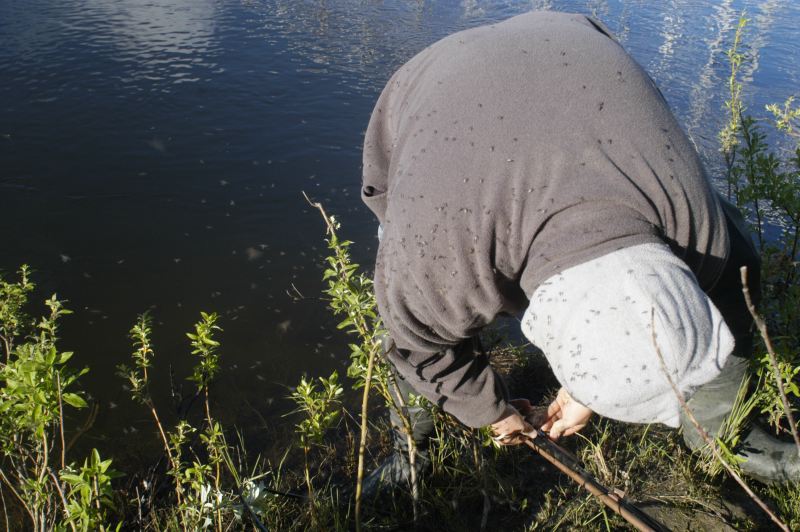 So, Monday Kristin and I visited the Snake River, one of the gold rush rivers just outside of Nome where I downloaded data from our stream gage and she recorded a velocity profile of the river, fighting bugs all the way of course: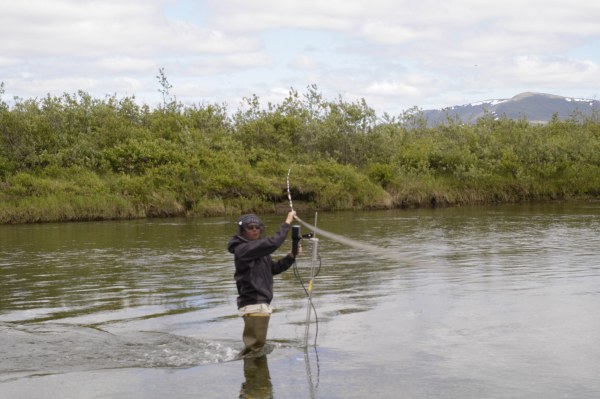 Then this morning, because we forgot a crucial couple pieces of stuff we headed back out to the Kuzitrin River to put in the staff gage: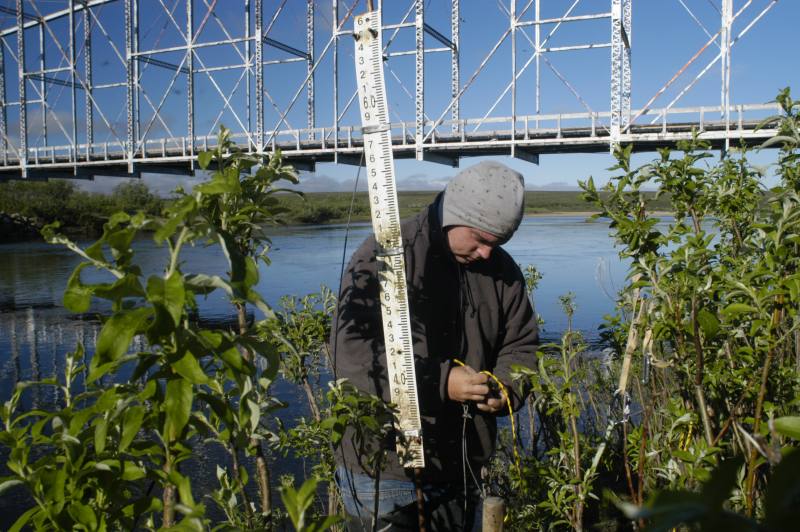 On the way out we got a flat but our truck was brand new so I got to christen the spare tire. In the picture I'm attaching the pressure transducers so we can get continuous water level readings.
Wednesday, June 15, 2005
Kind of on a roll here... just got this one from Prathap from when we were out at CPCRW last week: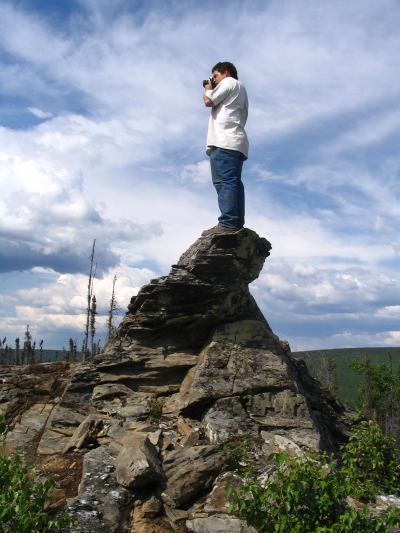 It's not a complete shocker or anything but... I was just reading this article:
Carnival vs Union
And it's pretty humdrum about the longshoreman working out a compromise with Carnival about some luggage handling but in the second to last paragraph it mentions the foreign crews make on their cruise ships make $1 to $1.50 an hour. Wow, how crazy is that? Even more amazing when you think about how many TVs and stuff they'd pick up from Stereo North when they'd come in to town back in Sitka.
Hee hee.
Saturday, June 11, 2005
Hi, well, got some pictures up in the picture section from the past couple trips etc. FYI my email seems to have gone on the fritz since the 24th or so of May so if you've sent me anything and you can remember what it is you might try sending it my uaf account instead. I think it'll all be worked out soon and I don't think I've lost anything (cross fingers) but in the meantime...

... Tuesday update. Back in business, you can email away to the regular place.

Thursday, June 09, 2005
Lame title, I know. Well, just back from the first trip to Nome. It's AWESOME out there. Like denali park part deux but you can four-wheeler all over the tundra and stuff. Yeah, I get the film pictures from hawaii and the seward peninsula back today so maybe fresh stuff up in the picture section this weekend. Headed back out there probably next week for a day to fix up another gauge we couldn't get running due to the high river stage. But, in the meantime... check out this muskox!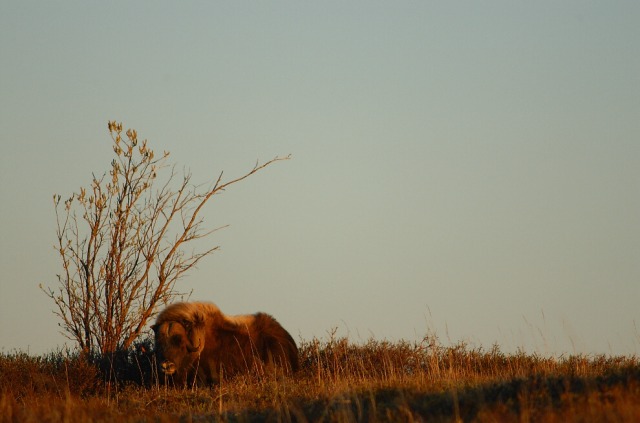 The other detail on the trip... headed up to one of the repeaters because we thought the antenna had wiggled loose and been moved out of position by the wind. Boy were we off! The wind broke the darn pipe... and Nome is in the opposite direction: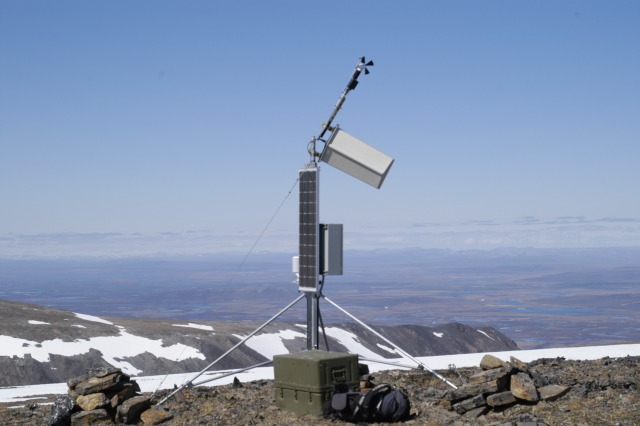 Thursday, June 02, 2005
Well, figured I'd leave you all with one bit before I'm off to Nome. More will come later for sure but I used the film camera most of the time on this trip so there's some developing that needs to happen yet.
So, on the third day on the island we went kayaking in Kailua on the SE end of Oahu. It was a blast, saw a couple sea turtles among other things. And of course, got super sunburned. I'm still wearing the life jacket lines to prove it and Jill burned the heck out of her legs. Anyway, thought I nearly killed the digital camera when I noticed a dog hair on the photo sensor... tried to blow it off and sprayed a bit of sea water onto the CCD. Doh! That killed me. Good old fashioned heart pounding moment. Well, alls well now that I'm back in Fairbanks and here's a bit of the ocean from one of the islands we went to: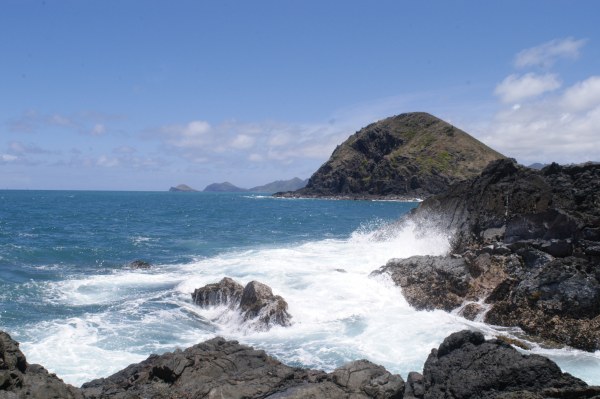 Well, back from Hawaii (it was awesome... Mary Ellen and Rob please take me with you in the fall!) and leaving for Nome first thing in the morning but of course Deep throat is the other exciting thing of the week and here's a fascinating article from Bob Woodward about how he and Mark Felt met.
Washington Post.com