Tuesday, November 29, 2005
As luck would have it, ran out of fuel last night... So, the house is warmed back to 50 degrees at the moment. It was probably a degree or two below freezing this morning when I came back with another 10 gallons of heating oil. Darn thing. I can't get the monitor primed again until the delivery truck comes and gives me a bunch more fuel. 20 gallons doesn't seem enough to get it going. Oh well. Yesterday started out in the minus 30s at my house but today it was in the single negative digits. That's a bit of an improvement but still super cold. Time for another vacation for sure.

Wednesday, November 23, 2005
Ah, my favorite holiday. On tap for this year, hopefully four pies. These are for the most part new ones that I haven't tried before. Well, I guess I just haven't done cheesecake and apple for a while and these are some different from normal recipes. I'll report back after tomorrow...
Buttermilk Pie
Peanut Butter Pie
Cheesecake
Apple Pie
(Mary's making the annual pumpkin)
The post script:
Buttermilk -- simple yet nice
Peanut Butter -- The best pie ever. Great recipe almost like the Wolf Run without the chocolate layer (the gold standard for peanut butter pies)
Cheesecake -- very tasty
... Didn't get to the Apple Pie
Thursday, November 17, 2005
Well, I'm rewriting a program after the
super computer
I'm working on told me the following:

iceberg1 % more lls-perl.txt.118172.err
Out of memory!
iceberg1 % 

That's a good goal, shoot for running out of memory on the super computer. Oh well, time to brush learn Fortran for real this time I guess.
The post script: I rewrote the program to be slower but less memory intensive and it hasn't crashed after 20 minutes of number crunching so that's a good sign.
Sunday, November 13, 2005
Guess who got spent a couple nights outside trapped in a snare this weekend... Little Midge. I can't believe there's a trap line so close to town... I just glanced at the regulations and it looks like its a legal deal despite how crazy it sounds. But, she's back and sleeping soundly now and seems okay. She got away when he let her out of the snare (I think she wriggled out of her collar since he took it up to the veterinarians. Bergey was super excited to have her back after a lonely Saturday spent looking out the window. Picked a chilly weekend, too, 20 below both nights. Oh well, we're happy she's back. Silly me, I was afraid she was dognapped (since she's such a cutie) or that a neighbor was going to take her to the pound.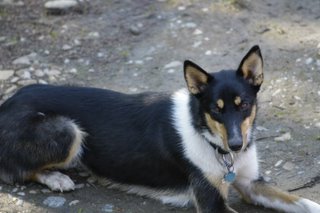 Wednesday, November 09, 2005
Had a fun Halloween, meant to put this up earlier but then, you know, that darn little Bergey broke my computer. Anyway, we had fun. Here's Helen as some sort of good woodland witch, Torsten as some guy from the movie Royal Tenenbaum's, Emily as a bee, and me as Rex Kwondo from Napoleon Dynamite. Pretty fun. Headed out to the howling dog where all night long people would quote movie lines at me. "Break the wrist" they'd say... "Break the wrist.. and walk away" I'd reply.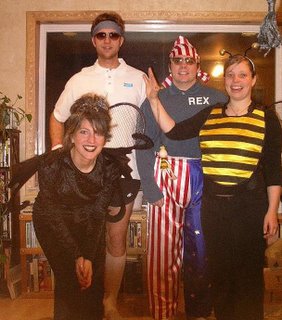 Of course, the best part is that we met these other Napoleon Dynamiters there: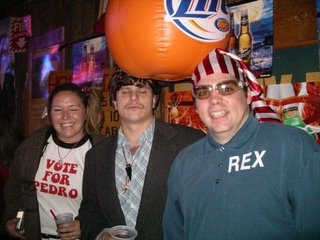 So, fun times in Fairbanks.
Tuesday, November 08, 2005
Go go gadget nutball out in Kansas of course. No surprise to anyone about the education board including intelligent design in their new K12 curriculum. My favorite part though is that they voted to change the definition of science to make this happen. Pretty sweet.
It's at the bottom of this article.
And, of course, a flashback to
this classic onion
from August.
I've never really understood how religion and evolution clashed. Shoot, the Catholic church just
reaffirmed
their belief in evolution. But, still who wouldn't think it'd be cool to
ride the dinosaurs.
... Fortunately they suffered a set back out in
Pennsylvania
so there's still hope for the world.
... Bergey broke my computer hence the lack of fall pictures etc. pretty busy fall though. I'm gearing up to go to the
AGU fall meeting
where I'll be hopefully showing my finished permafrost distribution of the seward peninsula.
Here's a pretty picture showing generally the snow distribution on the Seward Peninsula: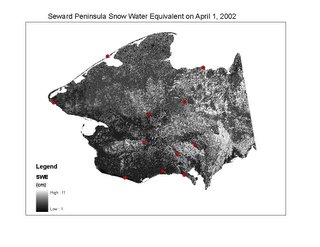 The only catch is the model's under predicting the snow and precipitation as you can see here: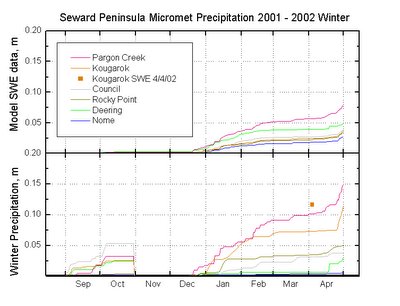 So, that's this week's mystery. Once I get to the bottom of that piece of the puzzle though it'll be back to cracking on the overall permafrost distribution. One of the cooler things is that this huge model takes over a day to run on one of the big supercomputers here on campus. Pretty sweet. Well, more to come later, I'm sure.