Thursday, August 31, 2006
Tuesday, August 29, 2006
Well, the Palmer fair was fun. Saw all kinds of odd things. Loda and I went down last weekend. Here's a bit of Anchorage humor for you: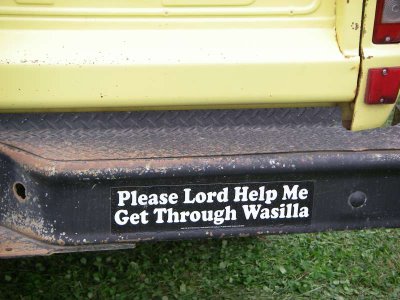 Some deft touch out in the parking area: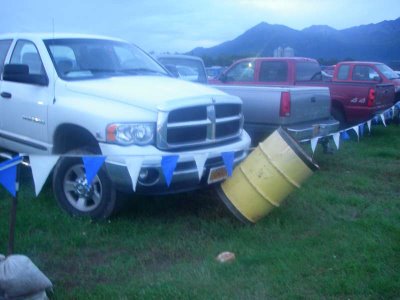 Perhaps a little bitter?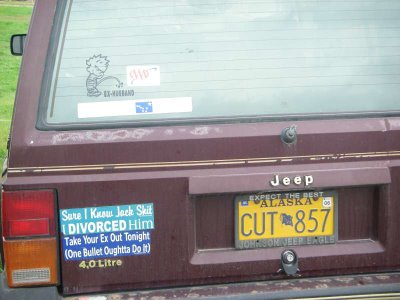 All kinds of odd things down there. Here's a sampling of the booths. This one cracked me up, probably in the running for most eclectic ever, aluminum fusing and new age therapies in one convenient booth and really, it's about time isn't it: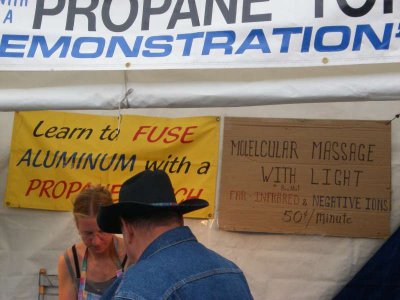 NOAA had a slot, too, but what is this, their weather police boat?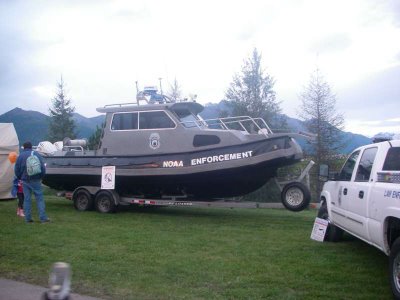 Like I mentioned, lots of odd booths. Being so close to Eagler River / Wasilla etc. this one wasn't a total surprise but still marginally creepy. They're selling stuff, too.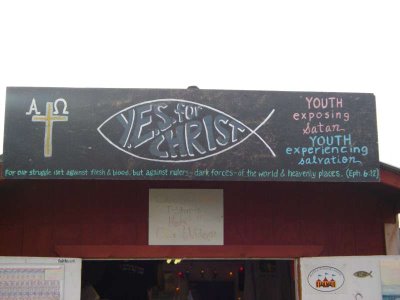 I guess that's the one bad thing about the Palmer fair vs. the Fairbanks one, you have to watch out a bit more for satan down there. Just keep it in mind and try to have a good time anyway though.
More cross cultral fun: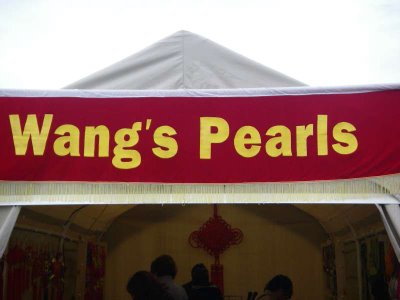 You probably had to have been there for this to bring a smile to your face but this is a generator that was running at the alternative energy booth. They had a big chunk of real estate with a wind turbine and probably at least 1 KW of solar panels and yet... the generator was on: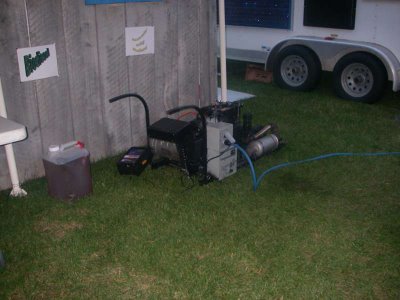 Good people watching down there, too. Cowboy hats are huge this year in the Anchorage area. This guy cracked me up a bit. You know, I've seen this cheap leather jackets advertising TV shows and stuff but until now had never seen anyone actually not be completely embarassed about wearing one of these jackets. Took a while to get a shot though since he was right in front of at the elephant ears shack.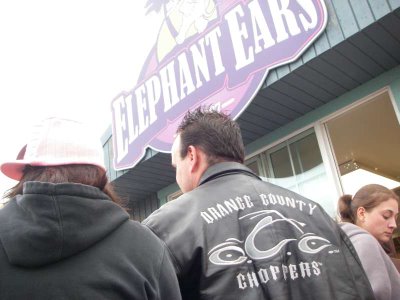 There were some funny exhibits, too. Like this decorative cake perhaps: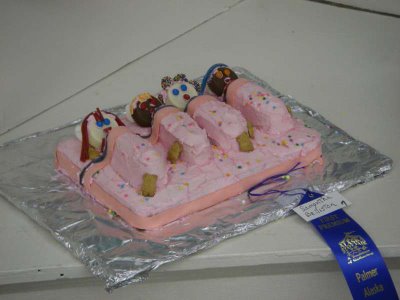 Pretty good advertising by my friend here for netflix. Complements the rock formation spelling 'fandango' I saw last year on the
Glenn highway
: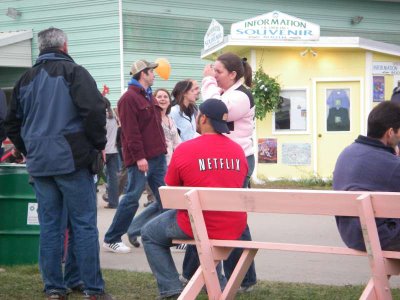 This lady struck me as not your typical rolling stones fan, a little young? But maybe I'm just not with the times. I guess they're still performing at the superbowl and all.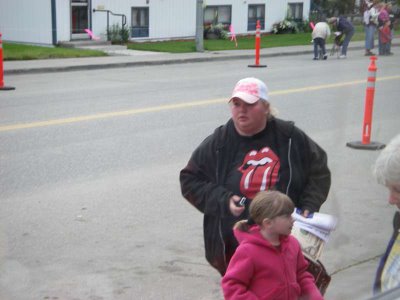 This lady was awesome. We watched her talk about having skunks as pets. Check out the sweet skunk shirt, too. She's had like six or seven skunks since college. This one looks albino but it's really apricot colored apparently.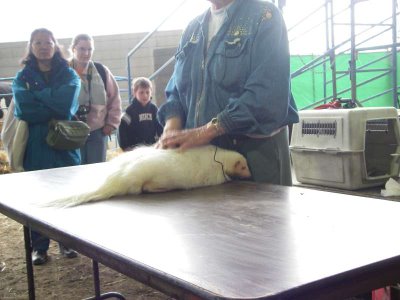 Check out the mushroom. Do you think they grew it over winter? I thought mushrooms needed it dark to grow the best.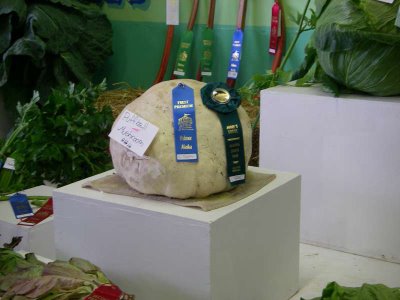 Big vegetables are the norm of course, like this zuchini: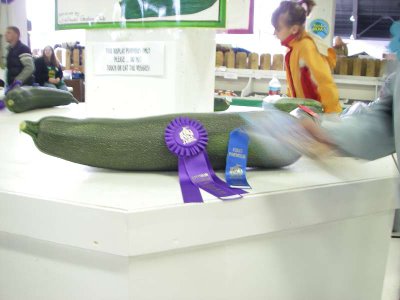 Or this world record kohlrabi (the record was set and then rebroken at this year's fair, exciting times I tell you!):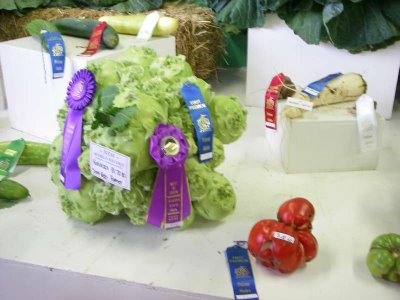 An award winning bouqet, seriously (and a sign from the devil perhaps?):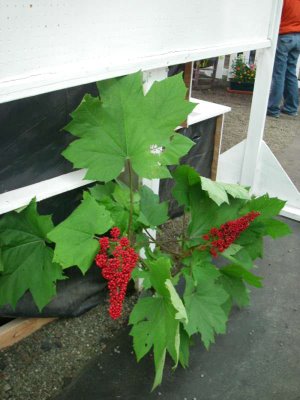 And of course we had to stir it up a bit on the trip as well: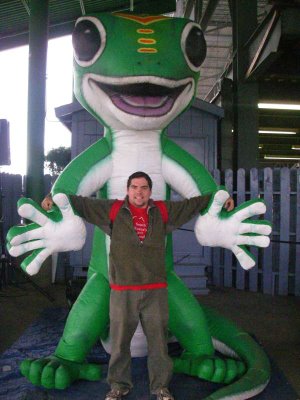 This security guard crashed the party at the geico gecko: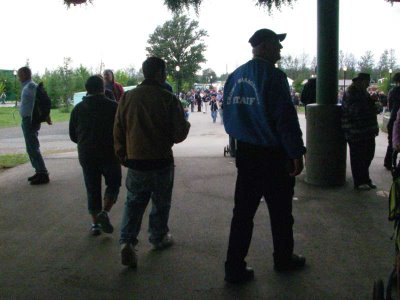 Back in Palmer where we had breakfast there was this sweet porch it's like the don't break your neck porch that they must have put in after ripping out the stairs or something.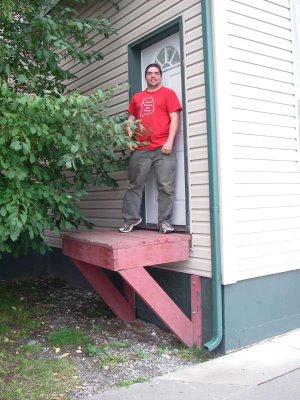 By the way, here's one of the places the devil hangs out, at the coffee store. I wanted to get a picture here and this little kid ran up to get in the shot. That was pretty funny you can see he's just baaaaarely tall enough. So then we traded sides (that actually threw him for a loop since he was trying to ruin the picture you know) and took another but the dorky kid forgot to look at the camera so for the second picture he's looking at me. Oh well...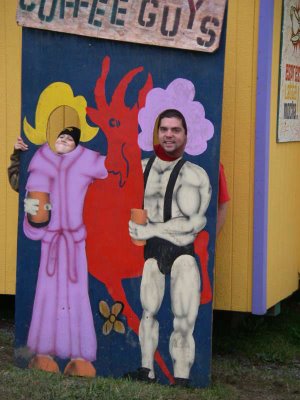 So, pretty fun time. Midge had fun, Loda had fun, everyone had fun.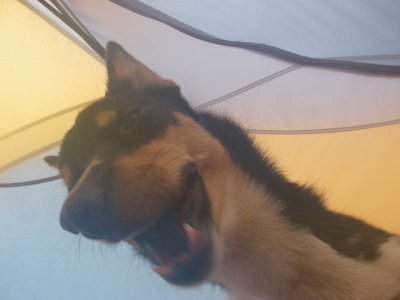 We were even treated to a double rainbow and a black bear on the drive north Sunday: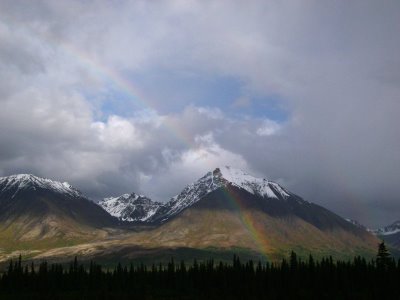 Thursday, August 24, 2006
Friday, August 18, 2006
Thursday, August 17, 2006
Wednesday, August 16, 2006
Monday, August 14, 2006
Sunday, August 13, 2006
Friday, August 11, 2006
Thursday, August 10, 2006
Monday, August 07, 2006